Front Entry Walkway Ideas
The front entry is key when it comes to making a strong first impression. Whether it's for your neighbors, friends, family, or total strangers, the walkway is a gateway into the atmosphere of your home.
An upgraded front entry can also improve your curb appeal. It certainly doesn't hurt to add curb appeal, whether or not you have any plans to sell your home (99% of realtors believe curb appeal is important to selling a home).
But, where do you start? Luckily, we've got some walkway ideas for the front of your house that will help you as you dive into your next project.
Things to Consider
Before crafting your dream walkway, it's worth considering a few key points.
Functionality

Each type of walkway material has a different feel and surface. If there are members of your family or close friends with mobility issues, you may want to consider a smoother surface so they don't fall and get injured.

Additionally, if your area is prone to rain or flooding it might be worth considering a material that is more slip-resistant and doesn't pool water as easily.

Durability

Some materials require more maintenance than others, while some last longer naturally. The local weather conditions should also factor into how durable certain materials are in your area.

Budget

Last but not least, consider your budgetary restrictions when selecting a walkway material. Everyone wants a beautiful walkway, but there are budget-friendly ways to create a front entry that still catches the eye.
Walkway Ideas for the Front of Your House
Brick Path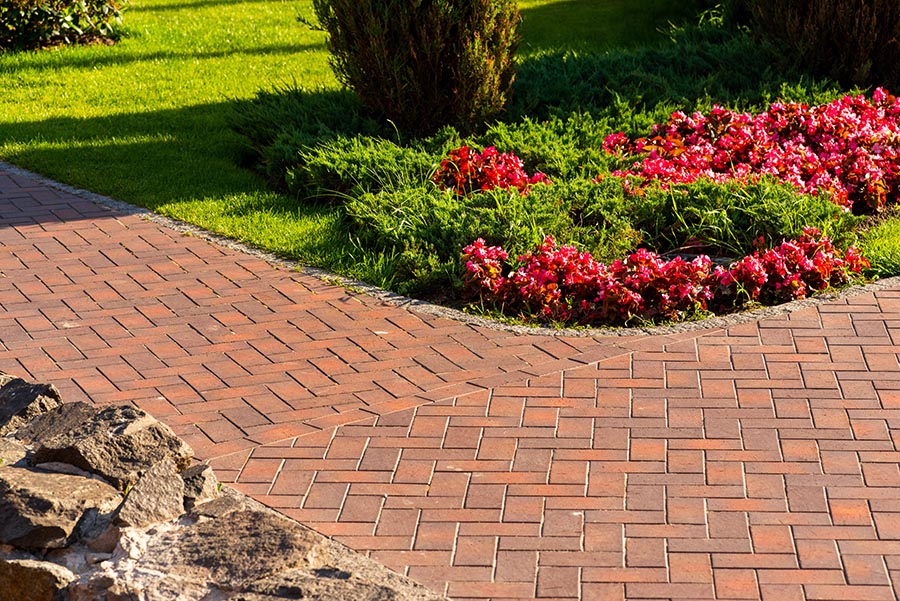 Brick is beautiful, with an old-world feel that gives your home a historic vibe. It also evokes a sense of luxury. With that in mind, brick is a perfect aesthetic choice for an older home or one in a historic neighborhood.
Functionally, brick pavers are extremely slip-resistant due to the rougher texture and the cracks between each individual brick. Brick also holds up against many different types of weather patterns. This makes it ideal for wetter areas or places that experience extreme weather conditions.
Generally, brick pathways are more expensive to install than other types of pathways, but the lowered maintenance and repair costs make it a great investment if you're willing to put the money down on the initial installation.
Concrete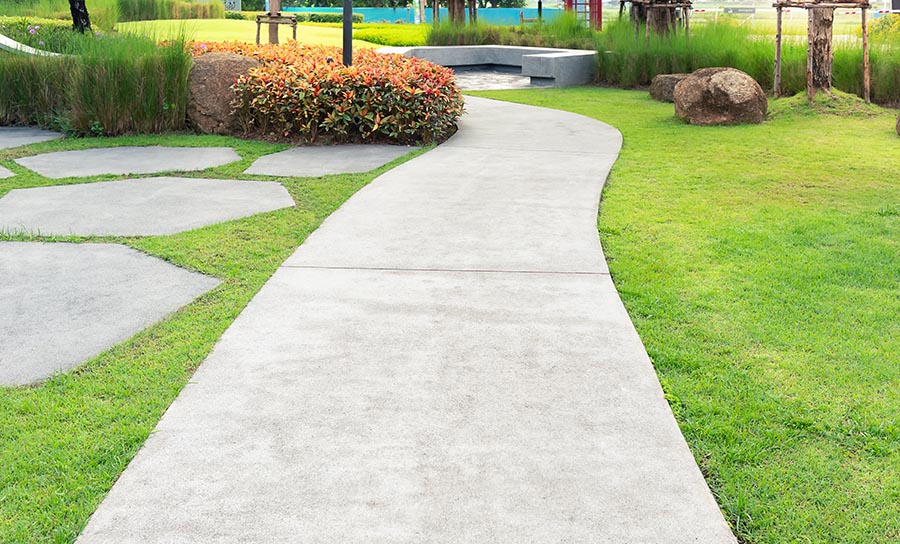 Concrete is tremendous in its pure simplicity, but it's also a very versatile material that can fit into any number of walkway designs.
Concrete can be applied in multiple different colors and styles, such as the poured concrete in the image above. Another option is concrete pavers that look more like stone or brick walkways. In essence, you can make concrete look like a different material for a lowered cost.
Concrete is not as slip-resistant as other materials, and stamped concrete in particular can be quite slippery when wet (swimming pool decks, for example). But with concrete's versatility, it can be shaped or formed in ways that make it more slip-resistant.
Another reason why concrete is a popular choice is because it's on the cheaper end of the installation spectrum. If you're seeking a budget-friendly way to bring your front walkway idea to life, concrete isn't a bad way to go.
Combination Paths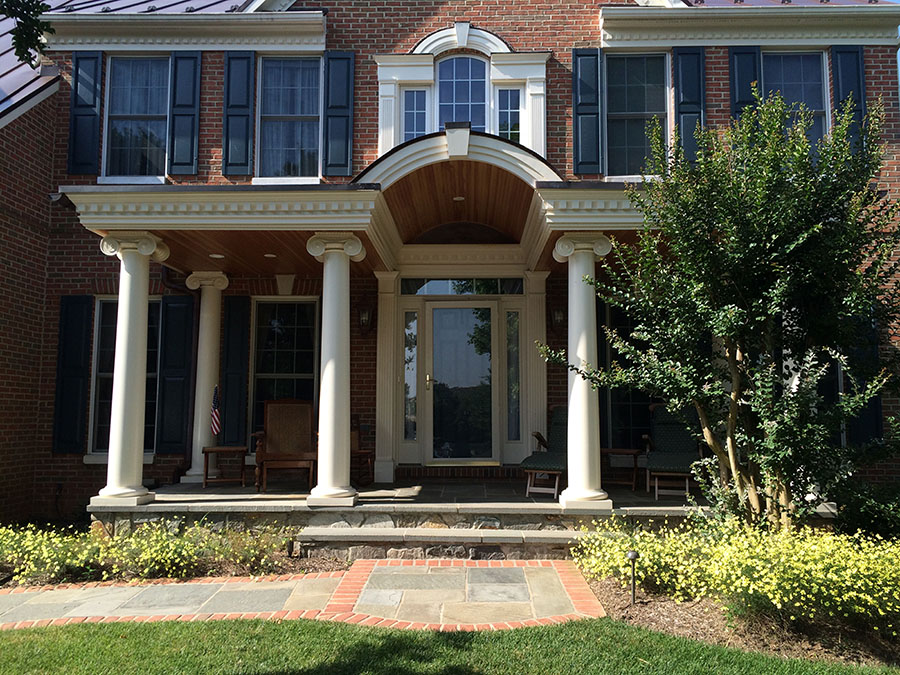 Struggling with a decision on which material to use? A great front yard landscaping idea is to combine materials together for a unique look. A combination path can incorporate any number of materials and designs, making it an excellent choice for the more creative homeowner.
The functionality, durability, and cost of such a pathway varies greatly depending on what materials are matched together for the pathway, but a classic idea is to border stone or concrete with a brick pattern (like in the picture above). This landscape design gives the path more shape and structure.
Stone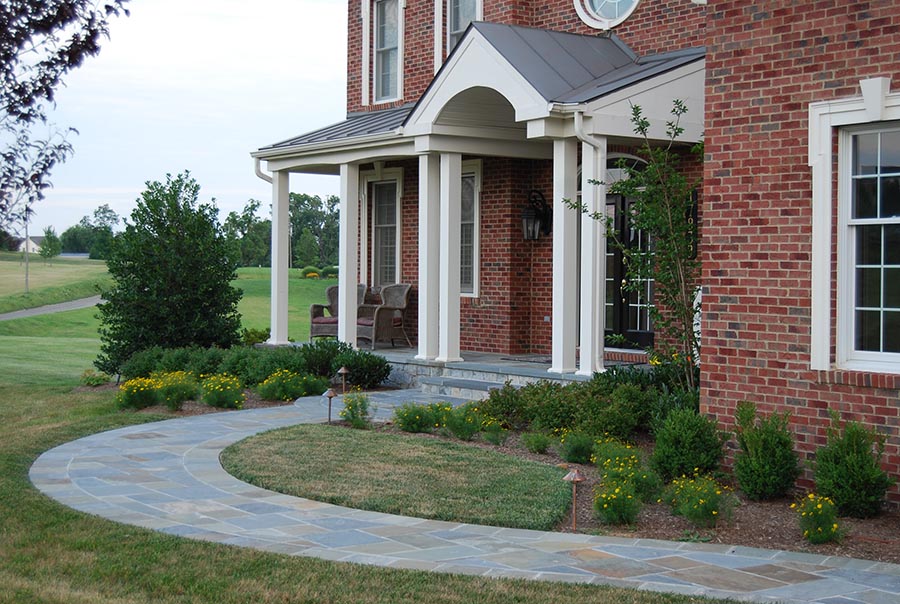 Stone walkways offer a more natural look, making it a perfect choice for a pathway bordering a garden or lawn. The assorted colors and shapes of stone – either made uniform in stone pavers like the above photo or with more of a puzzle-piece look with flagstone – makes the pathway a kind of art piece on your property.
Another benefit to having a stone walkway – especially for flagstone – is that it requires very little maintenance and upkeep. Stone doesn't crack or stain easily, and cracked natural stone isn't particularly noticeable. Much like with brick, stone walkways require a bigger upfront investment for lower costs down the road.
Gravel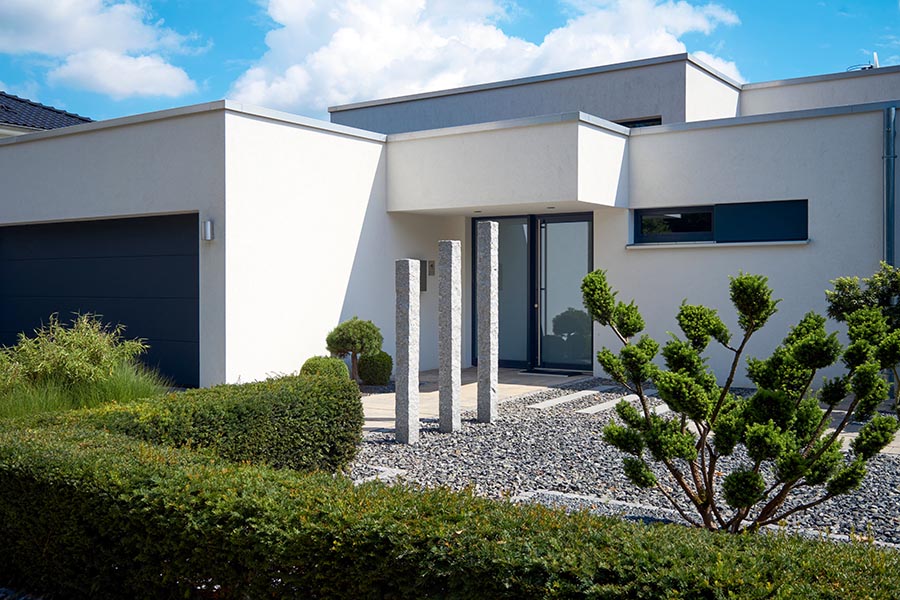 Gravel is one of the cheaper walkway materials to install, but it certainly has its aesthetic benefits too. The photo above is an example of how to creatively integrate gravel stones with other materials, such as with stepping stones to the front door.
Gravel is extremely durable and can hold up to high levels of foot traffic, but remember that it's more dangerous for people who have mobility issues since the small, sharp stones create a higher risk of injury.
Mulch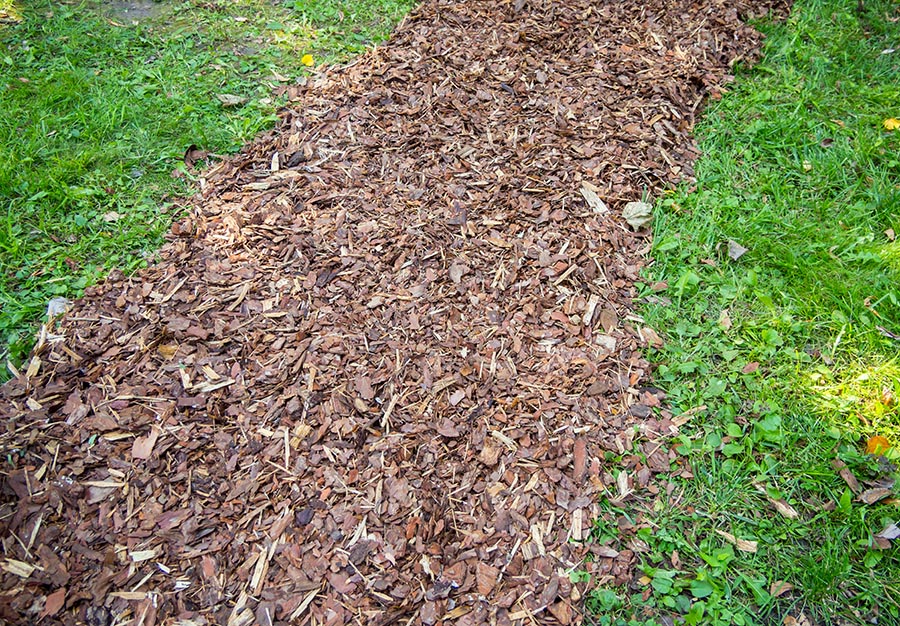 Mulch is often used in combination with other path materials, such as stone or brick, but can stand on its own as well. Aesthetically, mulch is often associated with more natural settings, making it great for a cabin or a home with an elaborate garden.
Mulch paths provide a softer surface that is quite comfortable to walk on, and it absorbs water well so there's very little risk of slipping and falling during harsher weather.
Much like gravel, mulch is one of the cheaper walkway options to install. It also eliminates any worries about chips or cracks that you might have with another material like concrete, making it cheap on the maintenance end as well.
Wood Planks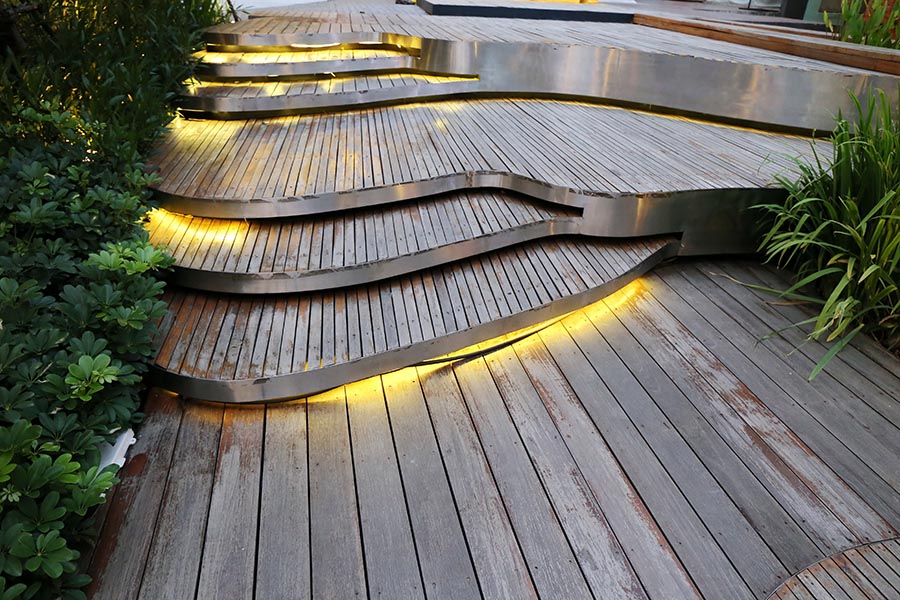 Whether your property is in the woods, surrounded by an elaborate garden, or on the beach, wooden planks provide a clean, natural look that can fit right in with your home's aesthetic. If installed in a garden, wood walkways prevent plant and weed growth from getting out of control and interfering with the walking path to your front door.
The main danger with wood walkways is that they're more prone to damage, potentially requiring repairs down the road if not maintained properly. It's no secret that wood can get quite slippery, too. If you're willing to put those drawbacks aside, you'll no doubt be satisfied with the beauty a wood walkway provides.
Walkway Installation in D.C.
Outdoor Spaces Design has experience installing all types of walkways and pathways as well as all other types of outdoor spaces throughout Northern Virginia and the D.C. area. Give us a call and begin to make your dreams a reality.