Definitions: Veranda, Patio, Porch
If you're looking to add an expansion to your home, there are several different directions you can go. Before you embark on your next outdoor living space project, it's important to determine what you want the look and function of your space to be.
In this blog, we'll help educate you on the terminology of various types of spaces, such as "veranda" and "porch." We'll also break down the differences between these spaces – patio vs. porch and veranda vs. porch, for example – so you can enter the next stage of your home project with confidence.
What is a Veranda?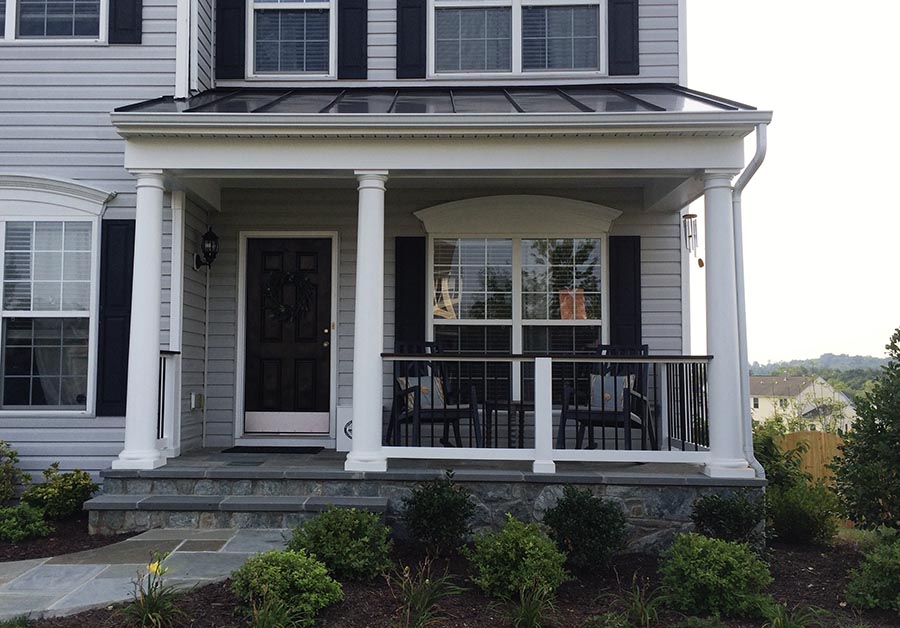 A veranda is a type of porch that is attached to the home. A veranda is roofed and open-air, with railing marking the boundary opposite the home or building. Verandas come in many shapes and sizes, with some offering only partial cover from above. Other verandas are wrap around porches that surround multiple sides of a home.
Veranda vs. Porch
A veranda is a type of porch, but not all porches are verandas. One of the chief differences between a veranda and a porch is that a veranda is covered while a porch doesn't have to be. Another is that a veranda is on the ground level while a porch is often on the second level or higher.
What is a Porch?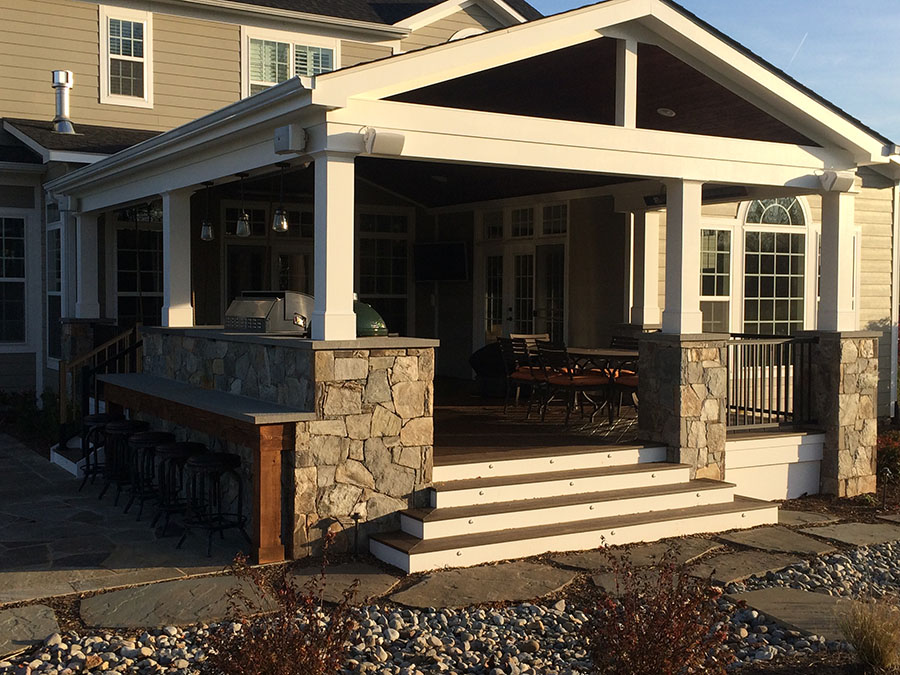 A porch is a raised platform jutting directly out from the entrance to a home or building. A porch can be formed using various materials such as stone, cement, or wood planks. Porches can be partially or fully covered, or completely open-air.
The Porch Appeal
A porch is more than just the lead-up to a front door – it's a full outdoor area for people to congregate that includes outdoor furniture and/or other features such as plants, a grill, or an outdoor kitchen.
Porches are a common home design addition for people who want to improve their curb appeal and add an outside space for their family and friends to enjoy.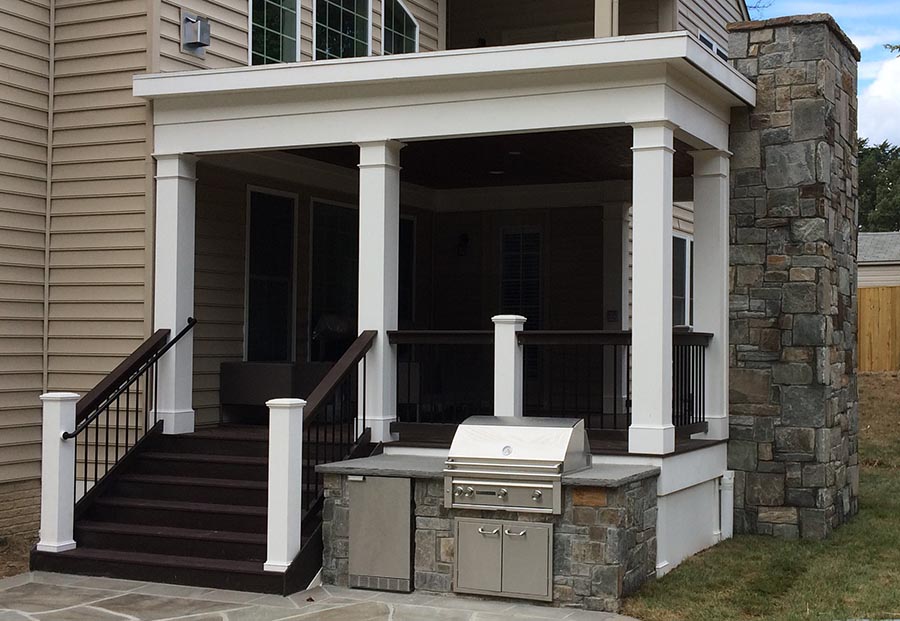 What is a Patio?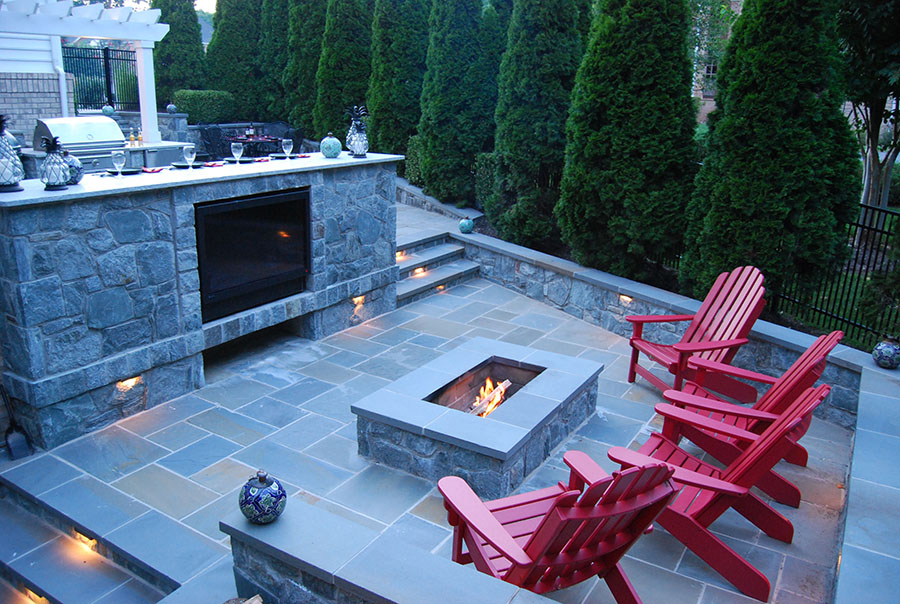 A patio is a courtyard – an outdoor space separated from the home or building that resides on the ground floor of a building. Patios are usually made from poured concrete or stone, though there are several different types of patio materials to choose from.
Patio vs. Porch
The main difference between a porch and a patio is that a porch is attached directly to the entrance to a home or building and sits on a raised platform while a patio is typically detached from the home and sits on the ground level.
Patios are frequently left open-air, though many include pergolas or screens for shading and weather protection.
Patios are popular for their versatility. Outdoor kitchens, pools, fireplaces, firepits, outdoor entertainment centers, and more can all be built on and integrated with a creative patio design.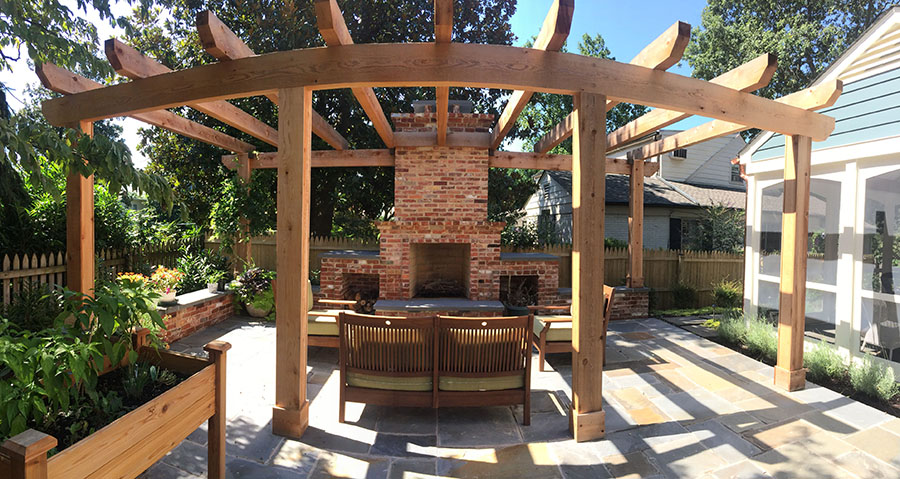 Patio Designers in Washington, DC
If you're looking to build a veranda, porch, or patio, you've come to the right place. At Outdoor Spaces Design, we pride ourselves on our ability to create beautiful spaces from scratch, designing something that perfectly suits your family's needs, style, and budget. Give us a call today to get started.