Curb Appeal Ideas For Your Home
Curb appeal is kind of like love at first sight, home edition. Whether you are looking to sell or will be staying until after the grandkids stop visiting, everyone wants people to fall in love with their home at first glance.
What is Curb Appeal?
Curb appeal is simply how appealing your house looks from the street or curb. It's the exterior design and appearance of your home from the top of your roof to the end of your driveway. Curb appeal is that first impression factor our home makes.
The Importance of Curb Appeal
Since we live mostly inside and in our backyards you might think, "why should I spend time and money on the front of my house?" There are lots of reasons! When you focus on curb appeal, you give your home a put-together, well-maintained, and clean aesthetic. It's a sneak peak into the beauty and quality of the inside of your home.
Homeowners who have upgraded the exterior of their houses report a greater satisfaction with their home and coming home to it. Not to mention you just might impress your neighbors and community while you are at it!
And if you are looking to sell, you've no doubt heard realtors and home improvement TV shows talk about the importance of curb appeal. It's incredibly valuable in real estate – especially for buyers. The sale price of homes with strong curb appeal can be boosted by 7-14%. Now that's appealing!
There are lots of ways you can increase your home's curb appeal, no matter your budget or time restrictions.
10 Quick and Inexpensive Curb Appeal Projects
1. Pressure Wash
Before you dive into any major exterior renovations, give your house a good cleaning from top to bottom. It makes a surprising difference! Roofs in particular can really get grimey over time and you might not even notice. Hit your siding, walkways, driveway and anything else that could use a little clean up.
2. Add a Fresh Coat of Paint
Painting your brick, siding (yes, you can paint vinyl siding!) and front door is a quick way to give your home a whole new look. Classic white is very popular right now, but you can experiment with bold colors as well.
3. Clean Up Old Landscaping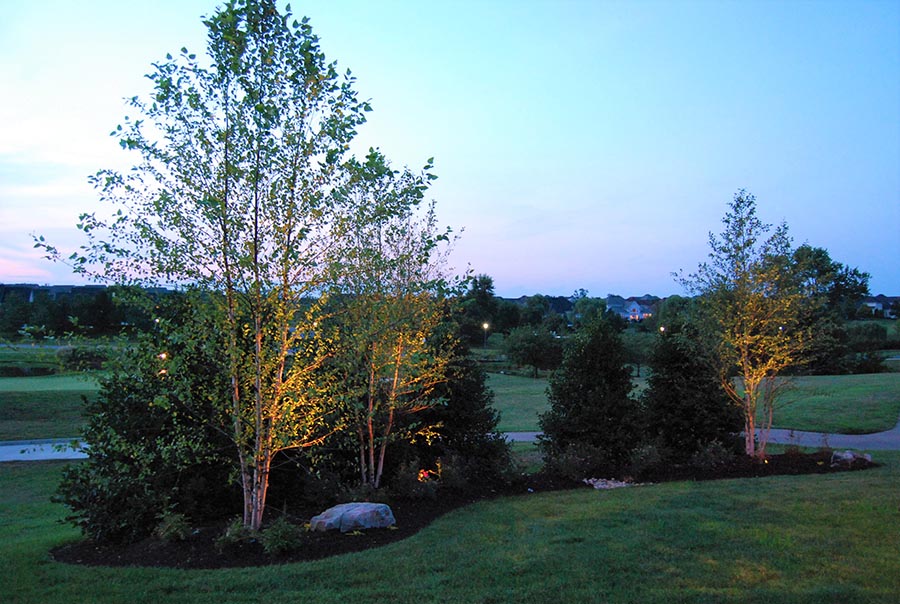 Since a full new yard of landscaping can get expensive, there's a lot you can do to spruce up your existing plants. Simply mowing and edging your lawn, trimming and removing dead or past-their-prime shrubs and raking out beds creates a clean look. Then, if you want to really make your beds look great, add a fresh new layer of mulch.
4. Plant Some Flowers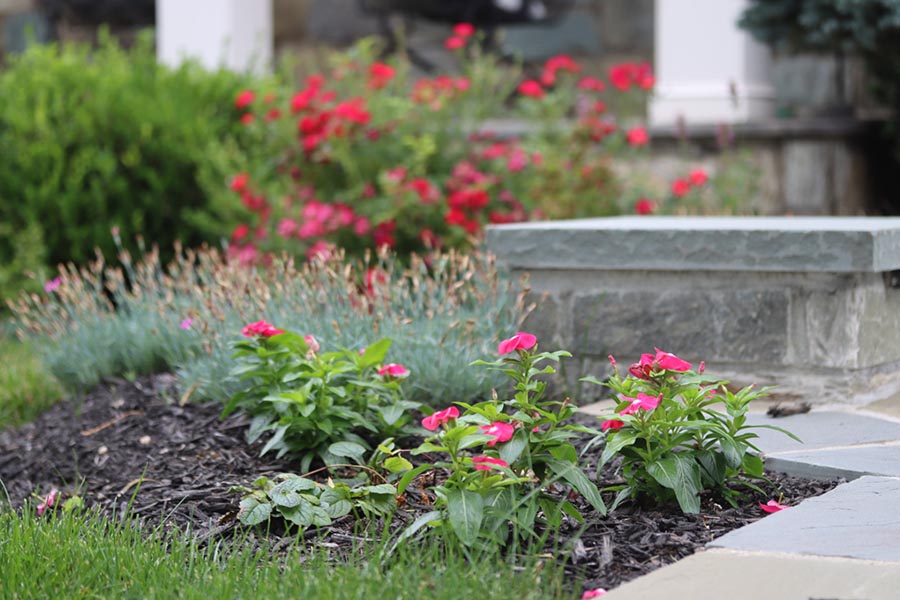 Nothing says welcome home like flowers! Watch for sales at your local home improvement store for pots for your porch. Costco usually has quality hanging baskets starting in March. And if you have standalone trees in your yard, create beds around them to plant hearty flowers like New Guinea impatiens which bloom from spring to fall.
5. Update Your Lighting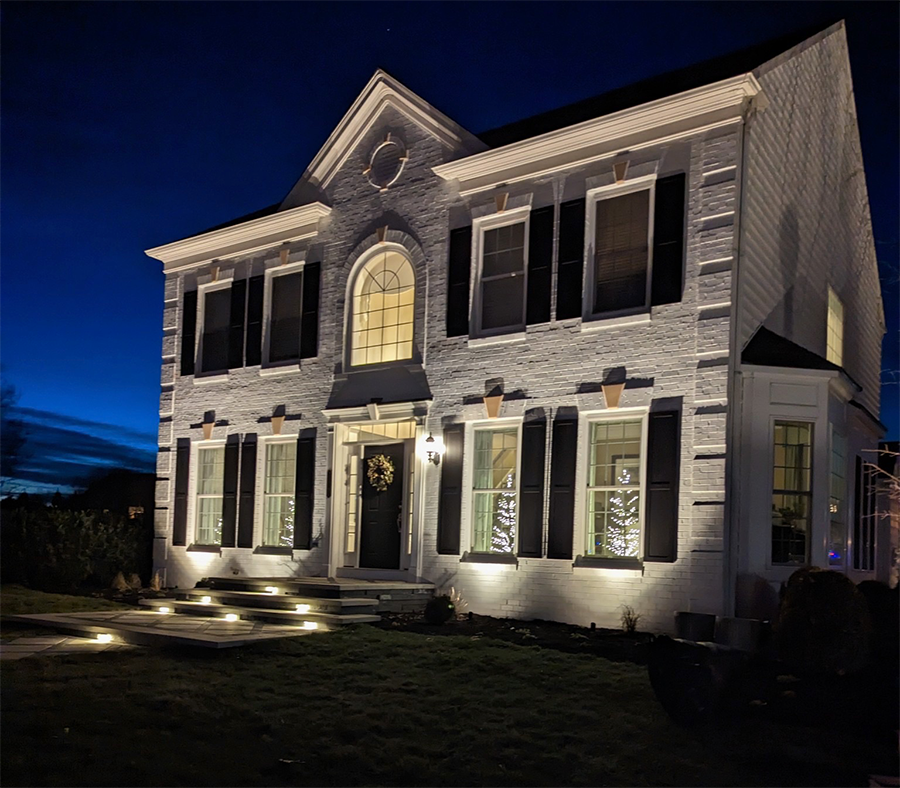 Cast your home in the best light! Beautiful, but simple outdoor lighting highlights your home's architectural features and landscaping. The lighting projects we have completed for our clients not only look great, but they increase the safety and security of the homes as well.
6. Create a Welcoming Seating Area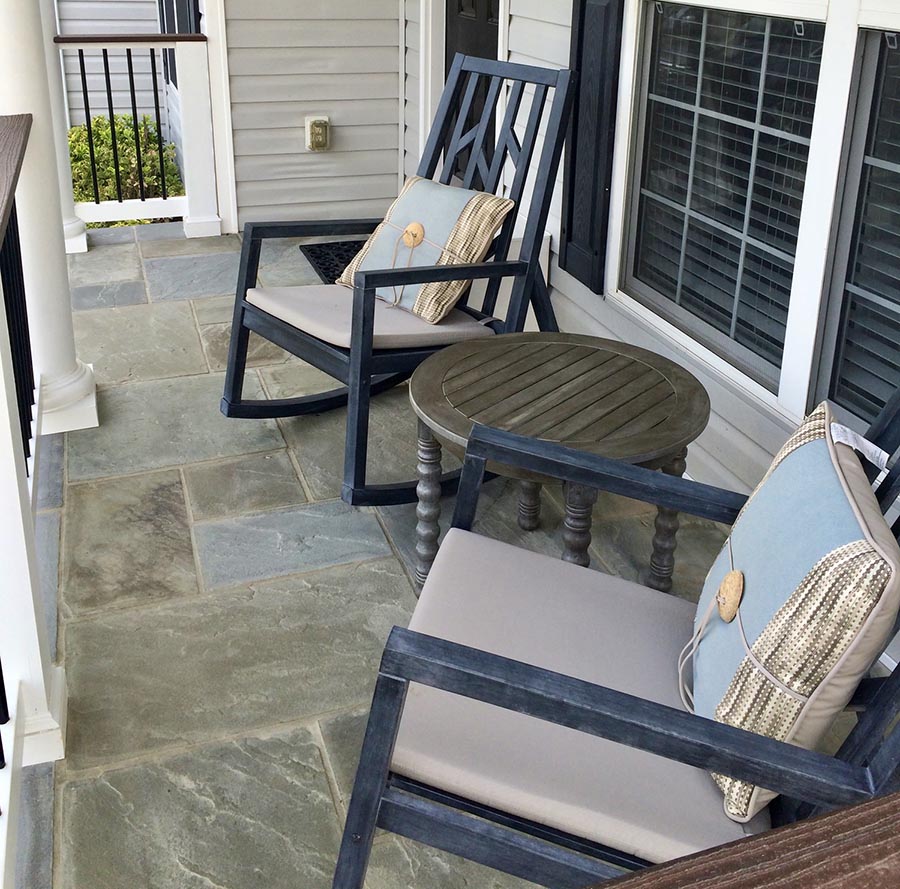 Outdoor furniture like benches, rocking chairs and bistro tables on your porch practically yell, "come on over!" Add decor like colorful pillows, wreaths and door mats for extra curb appeal.
7. Sealcoat Your Driveway
A picture is worth 1000 words! A new sealcoating not only extends the life of your driveway by protecting it, the clean, fresh look ups your curb appeal as well.
8. Replace Your Mailbox
It may seem like a little thing, but a junky old mailbox may be the first thing people see when they come to your house for the first time. (Why? They are looking for your house number!) Replacing your mailbox with a new one is an inexpensive upgrade that can set the tone for the whole house.
9. Hide Unsightly, but Necessary, Items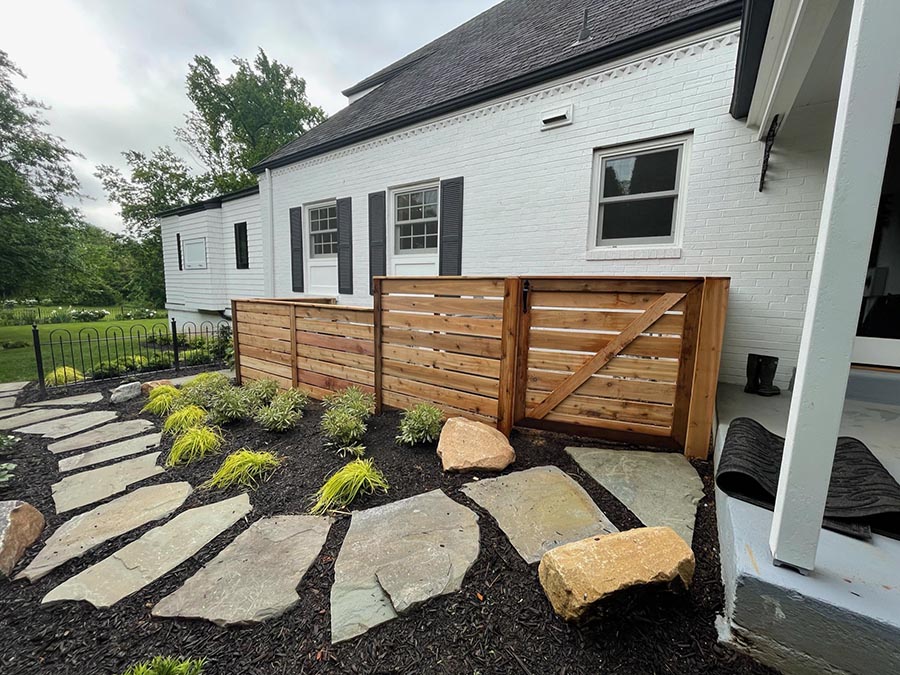 A homeowner fact of life is that we need garbage cans, an electrical box, an AC unit, hoses and other unattractive things on the outside of our houses. Get creative in hiding them! Try planting landscaping or building fencing around them like we did at this Virginia home.
10. Add Garage Door Hardware
Adding hardware to your garage door is like adding jewelry to an outfit! Especially if your garage faces the street, hardware can take a plain door from boring to wow. You can even buy magnetic faux hardware to make this trick extra quick and affordable.
10 Larger Curb Appeal Projects
1. Add a Front Porch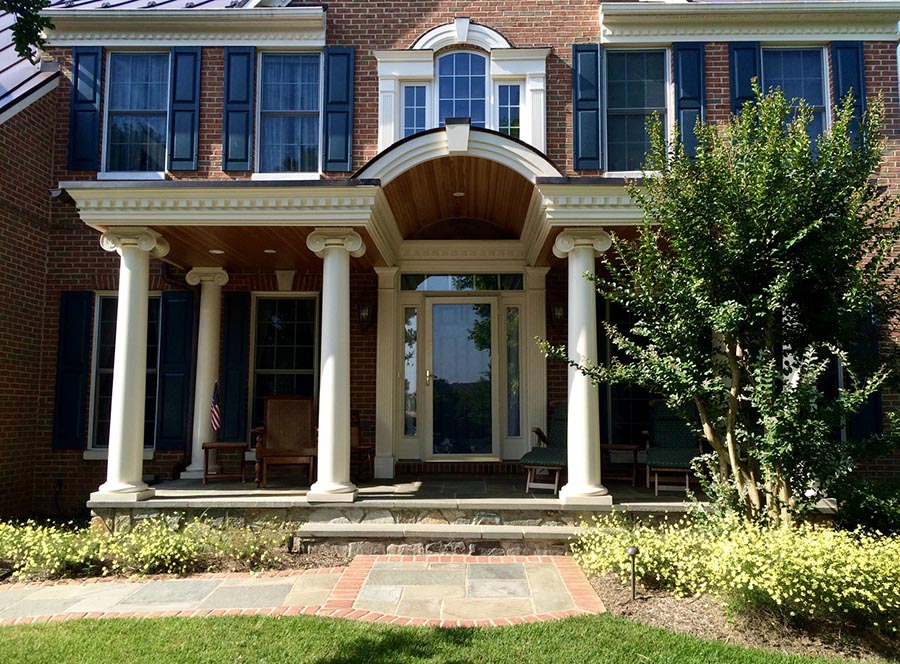 This flat-fronted home simply came alive when we added this beautiful columned porch with inlaid wood on the ceiling. A porch is listed as one of the top outdoor living spaces potential buyers look for.
2. Add a Decorative Fence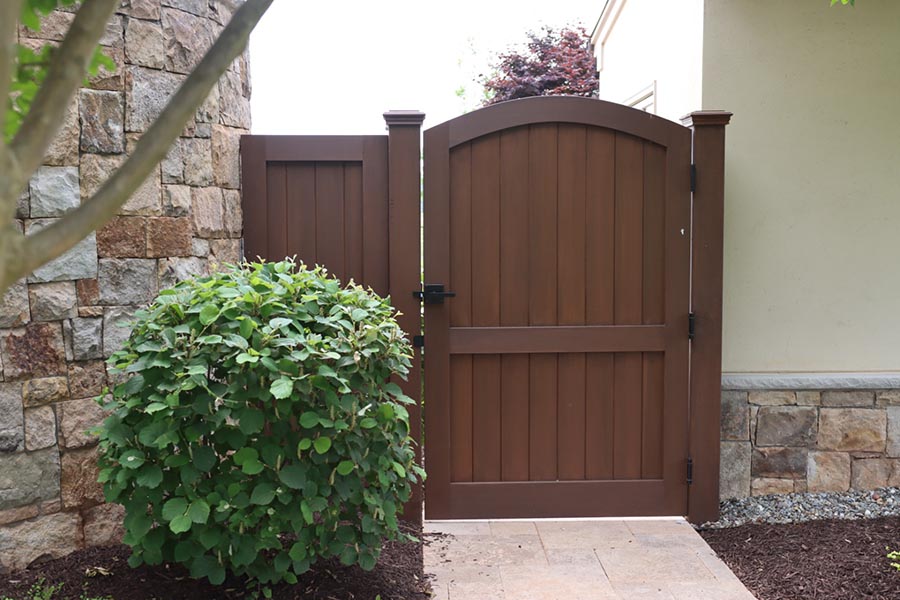 Sure you can add a sweet little white picket fence, but there are lots of modern, interesting options as well. Shorter fences allow passersby to see more of your home (and you to see the street and wave to neighbors!)
3. Improve Your Walkway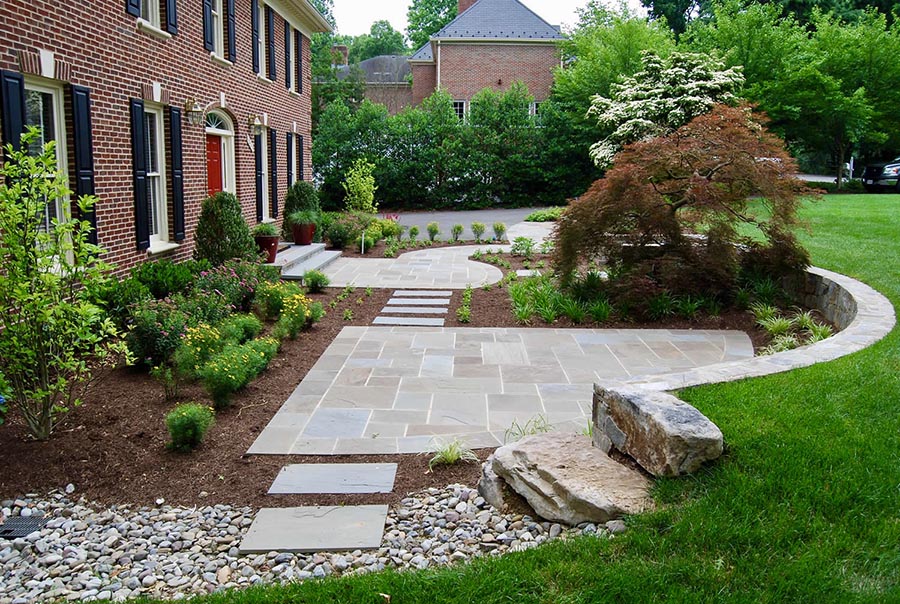 An impressive walkway and entryway really sets the stage for your home. When we design them for homeowners, we always make sure the path is intuitive, comfortable, safe and of course beautiful!
4. Add Window Shutters
Shutters are like mascara for your windows – they really make them pop! Shutters can be pricey if you have a lot of windows, but they are a relatively quick renovation that makes a really big difference in your home's curb appeal.
5. Replace Your Front Door
The best way to create an inviting entryway you can see from the street is with an elegant front door. Depending on the level of privacy you require, glass is a modern and bright trend that is here to stay.
6. Replace Your Garage Door
On average your garage door takes up about 30% of your exterior, so why not make a statement with it? If your garage faces the street you'll get even more bang for your curb appeal buck.
7. Up Your Landscaping Game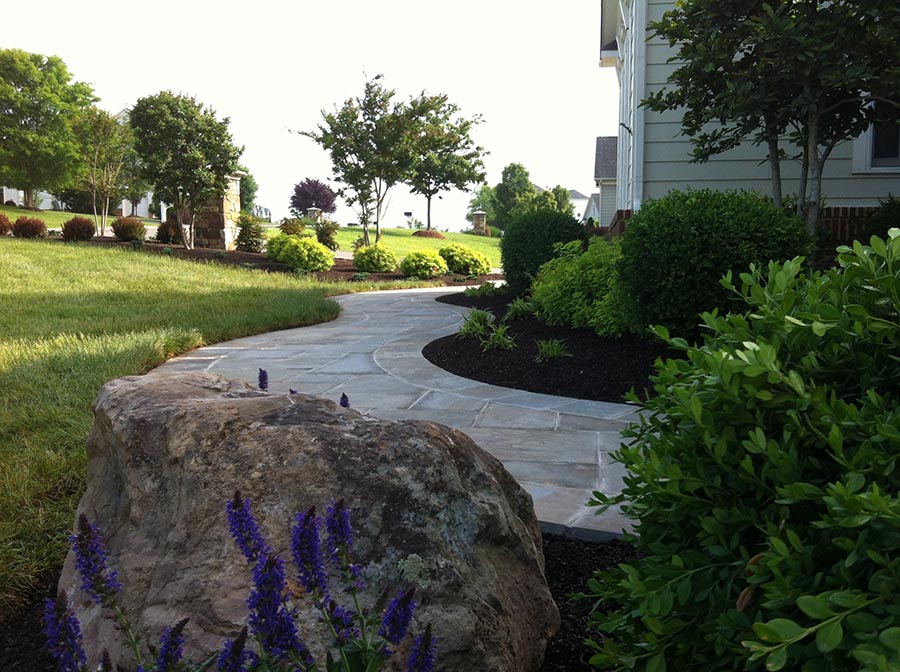 Landscaping really increases the beauty and value of your home. Potential buyers especially appreciate mature trees and a professionally-designed layout. (Hint: We can help you there!)
8. Add Retaining Walls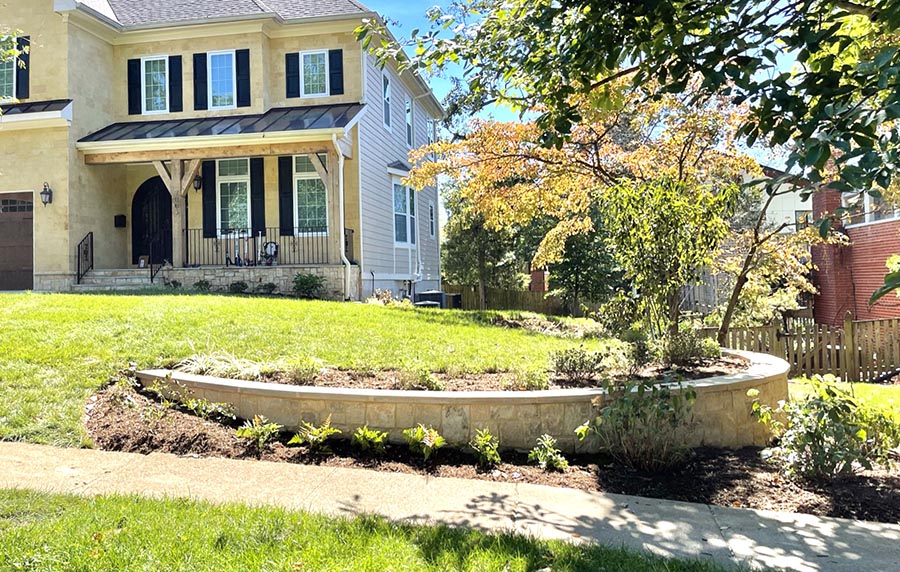 A beautifully-designed, quality-constructed, functional retaining wall may be just the front yard feature that will make your house stand out. With so many materials to choose from, we were able to replace this homeowner's old retaining wall to match their newly-renovated home style.
9. Increase Architectural Interest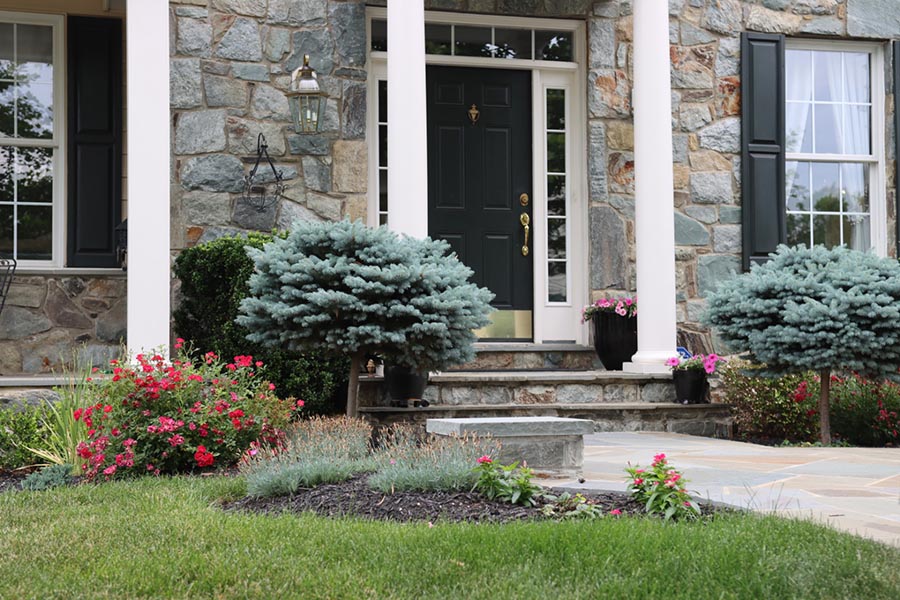 Adding dormers, bold gutters, flower boxes, columns and more can add depth and eye-catching details to an otherwise flat house. It can make a home look modern and interesting while also classic.
10. Change your Driveway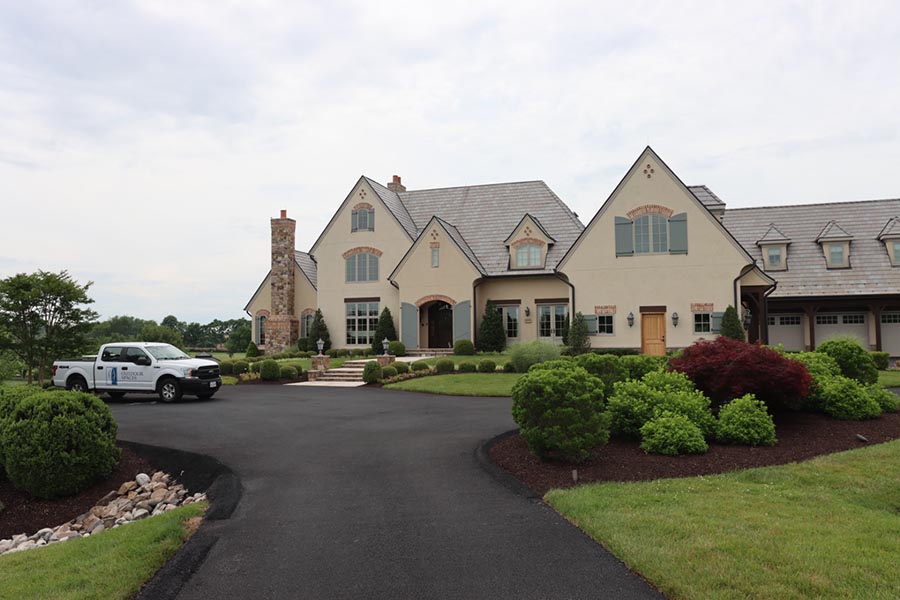 An attractive driveway not only sets the tone for your house as you enter, but having a bigger or alternately-configured driveway is also very practical, giving you more parking or more easily-accessed doors. If your property allows, consider a circular driveway as it really makes your house the focal point.
Curb Appeal Experts in Northern VA
There are loads of ways to add to your curb appeal with big and small renovations. As always, Outdoor Spaces is ready to help you with a brand new front porch, landscaping, lighting, walkways and entryways and more! Our design team will create a home exterior you can be proud of – while increasing your home's value at the same time! Give us a call to get started today.